For the limited number of people who care how I spend my time, over the last few months I've been conducting further research into one of my long positions: 4D Pharma (DDDD in London and LBPS on NASDAQ). 4D is a company pioneering the development of treatments derived from the gut microbiome – or the various organisms that make up our gut ecosystem. After diving further into pharma than I thought I ever would, I made another large investment around December at 95p/share. 4D is now a core holding, with what I believe to be a risk/reward proposition heavily tilted to the upside.
I've written this article summing up my reasons for investing in honour of 4D's entry onto the NASDAQ from Monday. I can only hope America treats it well!
Feel free to dive into my reasoning.
Interest in the gut microbiome is only growing.
A cursory Google search yields a panoply of optimistic articles:
MS study pegs the gut microbiome as a potential source of the disease
Defining the Parkinson's microbiome strengthens links to gut health
Inside story: the microbiome and cancer
To boot, everyone's favourite billionaires are chomping at the bit: a Forbes article dramatically explains why Gates, Zuck And Benioff think the next blockbusters will come from inside your gut. The main benefit of treatments derived from the gut microbiome is their beneficial safety profile: in a world where 17% of drugs fail Phase 3 trials due to safety – and even more fail at earlier stages – not having safety concerns is 'half the battle won' with regards to achieving regulatory approval. This could manifest itself in accelerated approval for some of 4D's flagship treatments.
Now what if I told you that the leader in this field was hiding behind a veil of small-cap obscurity, and was as such significantly undervalued? I'm not a fan of making unqualified statements, so let me explain.
Given that 4D is an early stage, cash burning pharma company, traditional financial metrics such as return on invested capital don't really apply. It's more down to the economics related to the company's offering. With that qualifier, 4D Pharma leads the industry in terms of:
a) pipeline
b) intellectual property portfolio
c) industry partnerships
This graphic (from a 4D Pharma investor presentation), illustrates this better than I can. Since it was posted, they have additionally collaborated with Merck & Pfizer (along with Merck KGAa) for trials of their checkpoint inhibitor drugs with 4D Pharma's cancer drug MRx0518.
Focus will naturally turn to the large pipeline (with larger addressable markets than competitors in e.g. asthma and neurodegeneration). This is warranted as any drug reaching clinical approval in any major jurisdiction can cause the share price to appreciate significantly. It presents the upside of a typical binary pharmaceuticals position, with downside made less likely by diversification across treatments for various different diseases. An underlooked point here though is the 'own manufacturing facility', capable of producing 120 million to 150 million capsules a year. This means that 4D have less need to out license their drugs to a third party, enabling them to capture increased net margins on drugs sold, and manufacture their own drugs for clinical trials.
The Monday just after this article has been published, 4D Pharma begins to trade on the NASDAQ under the ticker LBPS. The market capitalisation of the whole company – after its merger with the special purpose acquisition company (SPAC) Longevity Acquisition Corporation, and a fundraise – is $302.93m.
The average (mean) market capitalisation of the three publicly listed comparators above is ~$1.04bn (3.4 times 4D's), with the market capitalisation of the lowest valued comparator (Kaleido Biosciences) still ~50% higher than 4D at $462.89m.
However, even these statistics don't tell the full story. The truth is that the highest value-add event for the publicly listed microbiome sector came from highest value Seres Therapeutics, whose positive Phase 3 (the final stage of clinical trials) results for their treatment of recurrent C. difficile catapulted their market capitalisation into the billions.
While this goes some way in confirming the potential of microbiome treatments, the C. difficile market was valued at ~$1.7bn in 2020. 4D's flagship cancer treatment mentioned before, MRx0518, has till date received the most publicity for its combination trial with Merck's Keytruda, an immune checkpoint inhibitor – a type of drug – worth anywhere from around $100bn (as it is currently) to $200bn to Merck by 2025. The science is complicated, but in Part A of the Phase 1/2 trial with Keytruda, 4D smashed Merck's pre-defined target of 10% (for disease control rate – DCR) by a whopping 32%. This was for late stage cancer patients whose disease had sadly progressed on immune checkpoint inhibitors. The significance of this cannot be understated, and is best understood through an example, like the below.
The financial significance of this? 4D Pharma holds the potential of expanding Keytruda's addressable market to checkpoint inhibitor resistant patients. As sample sizes get larger we cannot know if they will replicate the mammoth 42% DCR achieved initially, however even assuming a 10% expansion the company instantly would be worth ~$10bn, give or take, to Merck. 4D's CSO Alex Stevenson has also talked about how they are looking to expand to earlier stage patients – as they are indeed doing in their upcoming trial with Pfizer's Bavencio – and this can add an as yet unquantified amount to the immune checkpoint inhibitor addressable market.
The difference in scale between Seres' C. difficile treatment in what is already a small, competitive marketplace and what 4D are looking to do in oncology is staggering. So staggering, in fact, that the argument that MRx0518 should already be worth more to 4D Pharma, on a probability weighted basis (taking into account the chance of the drug failing at any stage of clinical trials) seems quite logical indeed. Taking this 10% chance of success from Phase 1 clinical trials (which is conservative due to 4D already having seen success, the safety profile of microbiome treatments, and so on) and applying it to MRx0518, the value ascribed is already easily in the billions.
You may argue that valuing a drug on what it is worth to someone else is flawed. This is when M&A and clinical partnerships in the space become important, and push up early stage biotech valuations. It is well known by now that large pharmaceutical companies prefer to outsource their R&D to smaller firms and then acquire them, usually at a premium. This is to 4D's benefit. The checkpoint inhibitor space is a battleground for Big Pharmas, and anything that can increase addressable markets/give one's own drug exclusivity benefits is gold dust. Bristol Myers Squibb, for example, paid $1.85bn, upfront, in cash and stock purchases to Nektar Therapeutics based on 'promising early data from ongoing Phase 1/2 PIVOT clinical study' relating to one of Nektar's treatments NKTR-214. Merck acquired VelosBio for $2.75bn based on a drug that was in Phase 1/2 trials at the time. Tales of similar M&A in the checkpoint inhibitor space are growing as old as time itself!
Factoring in 4D's immense diversifying non-oncology pipeline and self-professed 'most productive platform in the microbiome space', along with their intellectual property portfolio, their undervaluation on an absolute and relative basis is clear. The closest equivalent I can probably muster is having a portfolio of call options on the growing microbiome field. The focus on this article is on oncology but we can make similar (although less developed at the current time) arguments relating to asthma treatments (a ~$19bn market), among many others.
But – I'm not a science person! – how can I be confident that I know anything? A fair question. My confidence is down to a few factors:
a) 4D have clinical collaborations with three Big Pharmas: Merck, Merck KGAa (a separate company), and Pfizer. The Merck link runs deep, through bacterial vaccines (a deal worth >$1bn) in addition to oncology. This speaks to what the science is showing Big Pharmas.
b) Key figures have invested significantly in the company, and are of significant pedigree. Directors and their relations own 12.7% of the company, and in a recent private placing (which gives them working capital till 2022) the CEO and CSO subscribed for shares worth a further $2m. These are no chumps, as shown below from a 4D Pharma investor presentation. For example, Professor Axel Glasmacher was head of clinical research at Celgene, a company with assets worth $35bn in 2018 and a subsidiary of Bristol Myers Squibb.
Renowned institutions like Baillie Gifford have also accumulated a stake.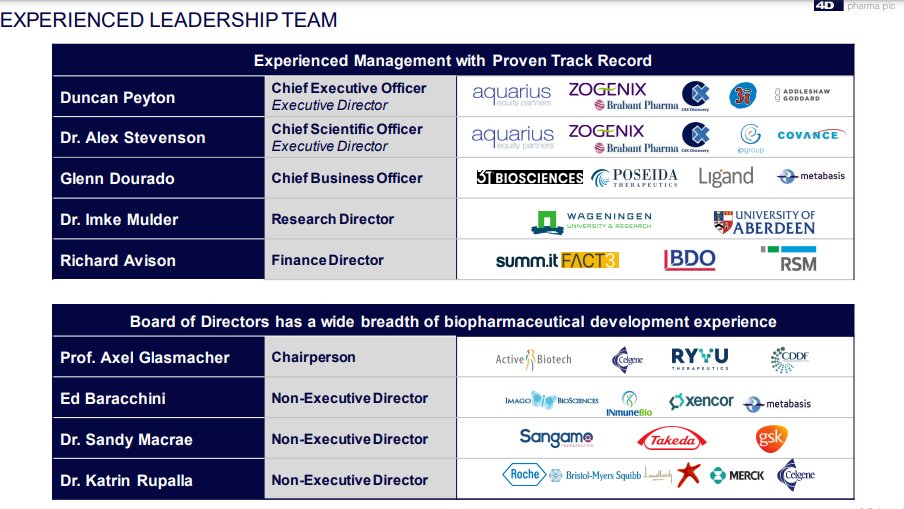 Finally, I shall address two points here:
a) How did 4D Pharma reach this share price?
The company was an old holding of Neil Woodford, the disgraced former British fund manager known as 'Britain's Warren Buffett'. At ~£600m market capitalisation in 2016, when the company was far earlier stage, he found it 'profoundly undervalued'. The collapse of his fund led to a precipitous decline in the share price as a fire sale ensued, and till date it hasn't really recovered. Given that the Alternative Investment Market (AIM) where 4D is currently listed is derided as a 'Wild West' environment, and many funds cannot invest in AIM companies, the company has languished in obscurity as of now. This brings me on to my next question:
b) What are the catalysts for share price appreciation?
With regards to clinical catalysts, again 4D can explain far better than I in their March 2021 investor presentation:
In addition to this, the NASDAQ listing 4D are undertaking gives them access to far deeper pools of capital (unconstrained by regulation relating to where they invest) and specialist biotech investors. Significant funds (like 'flavour of the day' ARK and many others) investing on the open market may also drive a rerate.
Avid readers of my website (if they exist) may remember that I wrote an earlier piece in September on 4D called 'Diversifying into pharma'. Since then my conviction, and position size (having entered a sizeable position late last year) have only increased. The optionality & potential upside from 4d Pharma is immense relative to the downside risk (in my humble opinion), due to in large part the factors listed above. I am anticipating that within the next few years, it is likely that not only will the valuation gap with peers close, but we may reach some pivotal clinical milestones that drive a re-rate of the share price.
Let's see what happens post-NASDAQ listing!
Disclaimer: All content provided on Shrey's Notepad is for informational purposes only. The owner of this blog makes no representations as to the accuracy or completeness of any information on this site or found by following any link on this site.
The owner of Shrey's Notepad will not be liable for any errors or omissions in this information nor for the availability of this information. The owner will not be liable for any losses, financial or otherwise, injuries, or damages from the display or use of this information.This article does not constitute financial advice in any way, shape or form.